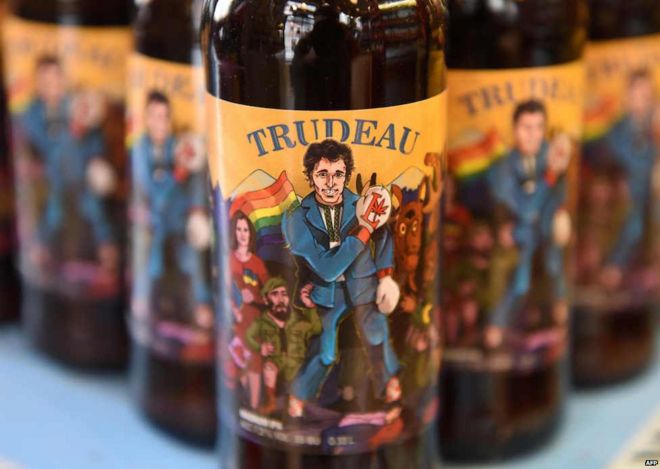 A Ukrainian brewery is stirring the political ferment with the release of a beer named after Canada Prime Minister Justin Trudeau.
The brew, a "magnum IPA", is adorned with a picture of Mr Trudeau in boxing gloves, with a red "L" for his Liberal Party and a cannabis leaf.
Canada's foreign minister Chrystia Freeland also makes an appearance.
Craft brewery Pravda says the beer is to honour Mr Trudeau and Ms Freeland's support for Ukraine against Russia.
"Leader of the Liberal Party, beloved by women, and kind of sex symbol," the brewery says on its website.
"Trudeau is known for his sympathy for coloured socks and marijuana, in addition to supporting the struggle for women's rights, and the LGBT movement.
"Since the beginning of the war in Eastern Ukraine, Trudeau actively supports the Ukrainian government and condemns Russia's actions."
No word yet from the prime minister's office on whether Mr Trudeau, who is known to be fond of Quebec beer Labatt 50, has tried the beverage.
Mr Trudeau is not the only world leader to be honoured by the brewery.
Angela Merkel is already the face of a wheat beer, while brews named after Vladimir Putin and Barack Obama are also in the works, the company's website says.
Donald Trump was even the inspiration for a "Mexican lager", released in Ukraine in May.
"Refreshing, with that beautiful hint of natural lime flavor, this beer will make you build a wall around your own heart, just like the only president in the history of humanity to do the same," Pravda wrote online.
The label shows a picture of the US president with President Putin peeking out from behind his shoulder.