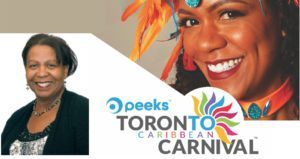 Peeks Toronto Caribbean Carnival has announced the launching of a "charitable partnership" between the Carnival and the Hospital for Sick Children to advance the study, diagnosis and treatment of pediatric cancer and serious blood disorders in several Caribbean countries..
In a news release, the Carnival said that it has chosen the "SickKids-Caribbean Initiative" as the beneficiary of its gala Carnival Ball to be held at the Riviera Events & Convention Centre in Vaughan on Friday.
Proceeds from the black-tie event will be donated to the Initiative.
The release notes that over the past four and a half years, the Hospital for Sick Children has been working together with local partners " to improve the capacity to diagnose and care for children in The Bahamas, Barbados, Jamaica, St. Lucia, St. Vincent and the Grenadines, and Trinidad and Tobago."
"We're proud to work with SickKids, one of the world's top hospitals for children, on an initiative that will help so many Caribbean kids and their families," said Denise Herrera Jackson, CEO of Peeks Toronto Caribbean Carnival
The release pointed out that " in the Caribbean, children with cancer and serious blood disorders often face a poorer chance of survival.
"Due to a lack of health-care professionals with specialized training, limited technology, sparse data on disease outcomes, and unique geopolitical challenges, many patients are currently not able to receive the life-saving care they desperately need. "
It said that "as a child health leader, SickKids has the know-how and the track record of successful partnerships to deliver the best possible care to patients everywhere."
Peeks Toronto Caribbean Carnival 2018 was launched on July 10.
The Grand Parade will be held on August 4.
Story first appeared at CaribbeanCamera.com