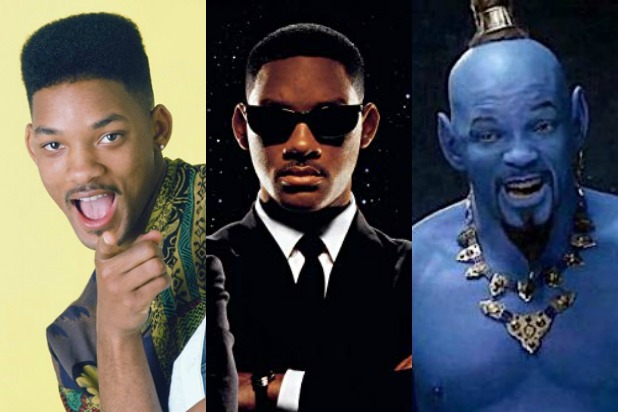 This weekend's box office is expected to be a quiet one with "Toy Story 4" still a week away, but Sony will still have a blockbuster on the slate with "Men In Black: International," the fourth installment in the 90s alien action-comedy series and the first without stars Will Smith and Tommy Lee Jones.
In their place are "Thor: Ragnarok" duo Chris Hemsworth and Tessa Thompson, respectively playing the top agent and newest rookie in MIB's London branch. Though the pair have become recognizable names thanks to their work in Marvel and elsewhere, "MIB: International" is still looking like one of the biggest risks of the summer slate.
Also Read: Chris Hemsworth and Tessa Thompson Team Up in New 'Men in Black: International' Trailer (Video)
Unlike more recent superhero franchises where the characters have been the main draw, "Men In Black" comes from a time when actors were the biggest selling points for blockbusters. Back in 1997, Jones was an Academy Award-winning star whose recent work included "The Fugitive" and "Batman Forever." Smith meanwhile was coming off the huge success of "Independence Day" after jumping from "The Fresh Prince of Bel-Air" to the big screen. The pairing paid off, not only for the continued stardom of the two stars, but for the studio, which produced successful sequels in 2002 and 2012.
To replace that iconic pair and get audiences to come back will be no easy task, and right now the numbers aren't looking good for "MIB: International." Independent trackers have the film projected for a $35-40 million opening against a reported $110 million budget. Sony, who co-financed the film with Hemisphere and Tencent, is projecting a $30 million opening from 4,200+ screens.
"Chris and Tessa have a track record of having great chemistry onscreen together, but I just don't see 'Men in Black' having four-quadrant appeal in 2019, especially without Will Smith," said Boxoffice's Shawn Robbins. "I think a lot of families are holding on to their movie ticket money for when 'Toy Story 4' comes out."
Also Read: Why 'Dark Phoenix' Ended the 'X-Men' Series With a Box Office Whimper
While it won't be as big a bust as last weekend's "Dark Phoenix," it's looking like this film will leave Sony relying even more on next month's "Spider-Man: Far From Home" and "Once Upon a Time In Hollywood" to make this summer a successful one.
"Men in Black: International" is directed by F. Gary Gray and written by Art Marcum and Matt Holloway. Liam Neeson, Rebecca Ferguson, Kumail Nanjiani, Emma Thompson, and "MIB" veteran Tim Blaney also star.
Also releasing this weekend is Warner Bros./New Line's "Shaft," the fifth film in the famed 1970s blaxploitation series and a direct sequel to the reboot released in 2000. The film is projected for a $20 million opening against a $30 million budget co-financed by Netflix, who is releasing the film on streaming overseas in two weeks.
Also Read: 'Late Night' Takes the Spotlight With Excellent Screen Average at Indie Box Office
"Shaft" sees Richard Roundtree and Samuel L. Jackson return as John Shaft and his nephew, John Shaft II. Jessie Usher also stars as Shaft II's estranged son and FBI agent JJ, who must reconcile with his father and work with him and his great uncle to uncover who murdered his best friend. Tim Story directed from a screenplay by Kenya Barris and Alex Barnow, with Regina Hall and Alexandra Shipp also starring.
Finally, Amazon Studios/30WEST's "Late Night" will expand nationwide after getting a four-screen limited release in Los Angeles and New York. The comedy starring and written by Mindy Kaling earned one of the highest per screen averages of the year so far with $246,305 for an average of $61,576. This weekend, trackers have it projected for a $5 million opening.
Directed by Nisha Ganatra, "Late Night" stars Kaling as Molly Patel, a chemical plant engineer who finds herself thrust into the world of late night comedy after she is hired by veteran host Katherine Newbury (Emma Thompson) and tasked with making her show culturally relevant again. But that proves easier said than done, as Molly has to deal with the struggles of being a woman of color in a writers room dominated by white men. The film has an 83% score on Rotten Tomatoes.
The Evolution of Will Smith: From 'The Fresh Prince' to 'Aladdin' (Photos)
Long before he became an awards season darling, Will Smith was a successful rapper. From his early days in Philadelphia, TheWrap looks back at the Fresh Prince's colorful career. 
Getty
Fresh Prince (1985)  A 17-year-old Will Smith met Jeff Townes by chance and the two ended up forming a hip-hop duo called DJ Jazzy Jeff & the Fresh Prince. 
Getty Images
First Grammy (1989)  DJ Jazzy Jeff & the Fresh Prince received their first ever Grammy Award for "Parents Just Don't Understand" in 1989.
Getty Images
"The Fresh Prince of Bel-Air" (1990-96)  After the IRS came after Will Smith for underpaid taxes, the rapper was nearly bankrupt. Luckily for him, NBC signed Smith and built "The Fresh Prince of Bel Air" around his rap persona. The sitcom became a '90s cult classic. 
NBC
"Where the Day Takes You" (1992)  Smith made his feature film acting debut in "Where the Day Takes You." 
Getty
"Bad Boys" (1995)  Smith starred in "Bad Boys" alongside Martin Lawrence. Although the film wasn't a critics' favorite, it did well with audiences and became a box office hit. 
Columbia Pictures
"Independence Day" (1996) 
Smith scored his first blockbuster playing a military pilot in the summer alien-invasion hit "Independence Day."
20th Century Fox
Jada Pinkett Smith (1997-)
In 1997, Smith married actress Jada Pinkett — whom he met when she auditioned to play his girlfriend on "Fresh Prince." (The role went to Nia Long.) They had two kids together, Jaden (born 1998) and Willow (born 2000).
Getty Images
"Men in Black" (1997)  Smith owned the July 4 weekend at the box office the following year with this sci-fi/comedy megahit, which grossed a whopping $250 million domestically. He also recorded his first solo single since his days with DJ Jazzy Jeff for the "Men in Black" soundtrack.
Getty
"Wild Wild West" (1999) 
Smith's next attempt to own the July 4 weekend box office was a serious misfire, a big-budget action comedy about 19-century hired guns trying to protect post-Civil War America from a diabolical inventor.
Warner Bros.
"Ali" (2002)  Smith was nominated for an Academy Award for Best Actor for his role as Muhammad Ali in "Ali," but lost to Denzel Washington in "Training Day."
Columbia Pictures
"Hitch" (2005)  The hardworking actor was recognized in the Guinness Book of World Records for attending three movie premieres in a 24-hour period while promoting the rom-com "Hitch."
Getty Images
"The Pursuit of Happyness" (2006) 
He earned his second Oscar nomination starring as a real-life salesman and entrepreneur who struggles with homelesseness. The film also marked the screen debut of his son Jaden.
Columbia Pictures
Star on the Hollywood Walk of Fame (2007)  Smith gets a slab of concrete with his hand and foot imprint at Grauman's Chinese Theater in Hollywood. 
Getty Images
"Hancock" (2008) 
This unusual take on a superhero film was a huge hit, grossing $228 million, but has yet to spawn a sequel. Smith played a down-and-out superhero who's teamed with a PR exec (Jason Bateman) to improve his image after some ill-advised heroics cause millions in damages.
Columbia Pictures
"Men in Black 3" (2012) 
Smith snapped a four-year sabbatical from the big-screen with the sequel to one of his biggest hits — but audiences mostly yawned.
Sony
"After Earth" (2013) 
Smith paired with his then 15-year-old son Jaden on this post-apocalyptic sci-fi adventure that was snubbed by critics and audiences alike.
Columbia Pictures
"Concussion" (2015) 
Smith lands another Golden Globe nomination for playing real-life Dr. Bennet Omalu, who took on the NFL after discovering football-related brain trauma known as CTE.
Sony
"Suicide Squad" (2016) 
Smith plays Deadshot, an expert marksman turned criminal who is recruited to join a band of super-villains recruited to work for good in the DC Comics movie. Many fans balked, but the film still grossed a career-best $325 million domestically.
Warner Bros.
"Collateral Beauty" (2016)  Smith plays a successful New York advertising exec who experiences a personal tragedy involving his young daughter and retreats from life, only to have his colleagues come up with a plan to bring him back.
Warner Bros.
"Bright" (2017)
In this futuristic sci-fi cop thriller from Netflix, Will Smith plays an L.A. cop partnered with the first orc on the police force (Joel Edgerton). The big-budget streaming movie generated some of Smith's worst reviews since "Suicide Squad."
Netflix
"Aladdin" (2019)
In Disney's live-action remake of the animated film "Aladdin," Will Smith plays the all-powerful Genie, who helps Aladdin impersonate a prince, romance Princess Jasmine, and save the kingdom from the bad guy.
Disney
Previous Slide
Next Slide
1 of 22
The Oscar-nominated actor wasn't always destined for movie stardom, he started out his career as a rapper
Long before he became an awards season darling, Will Smith was a successful rapper. From his early days in Philadelphia, TheWrap looks back at the Fresh Prince's colorful career. 
Story first appeared at TheWrap.