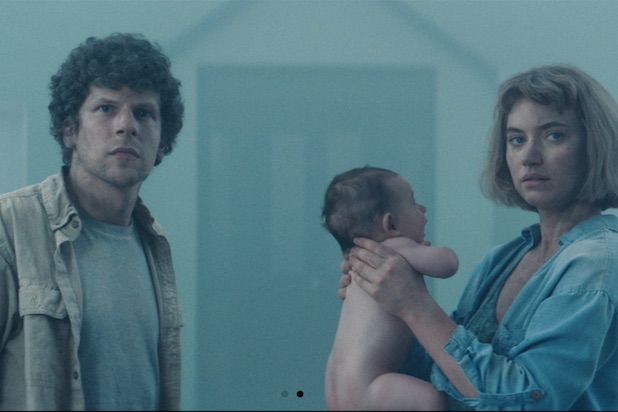 International Critics' Week, an independent section that runs concurrently with the Cannes Film Festival, has announced a lineup of seven feature films from seven different countries in its main competition.
The films include Lorca Finnegan's Irish sci-fi drama "Vivarium," starring Jesse Eisenberg and Imogen Poots; French director Jeremy Clapin's "I Lost My Body"; "A White, White Day" from Icelandic director Hlynur Palmason; Moroccan director Alaa Eddine Aljem's "The Unknown Saint"; Algerian Amin Sidi-Boumediene's "Abou Leila"; and two South American films, Cesar Diaz's "Our Mothers" and Sofia Quiros Ubeda's "Land of Ashes."
While Costa Rican director Ubeda is the only woman with a film in the Critics' Week competition, the full lineup of 27 features and shorts includes a record 11 films directed by women.
Ciro Guerra, the director of the Oscar nominated "Embrace of the Serpent," will serve as the head of the Critics' Week jury.
The full list of selections, including short films, can be found at the Critics' Week website.
The feature-film selections:
Competition:

"The Unknown Saint" ("Miracle du Saint Inconnu"), Alaa Eddine Aljem

"J'ai Perdu Mon Corps" ("I Lost My Body"), Jeremy Clapin

"Hvitur, Hvitur Dagur" ("A White, White Day"), Hlynur Palmason

"Nuestras Madres" ("Our Mothers'), Cesar Diaz

"Vivarium," Lorcan Finnegan

"Abou Leila," Amin Sidi-Boumediene

"Cezina Negra" ("Land of Ashes"), Sofia Quiros Ubeda
Opening film:

"Litigante," Franco Lolli
Closing film:

"Chun Jiang Shui Nuan" ("Dwelling in the Fuchun Mountains"), Gu Xiaogang
Special screenings:

"You Deserve a Love," Hafsia Herzi

"Heroes Don't Die," Aude Lea Rapin
Story first appeared at TheWrap.com
How the staff rate this post.