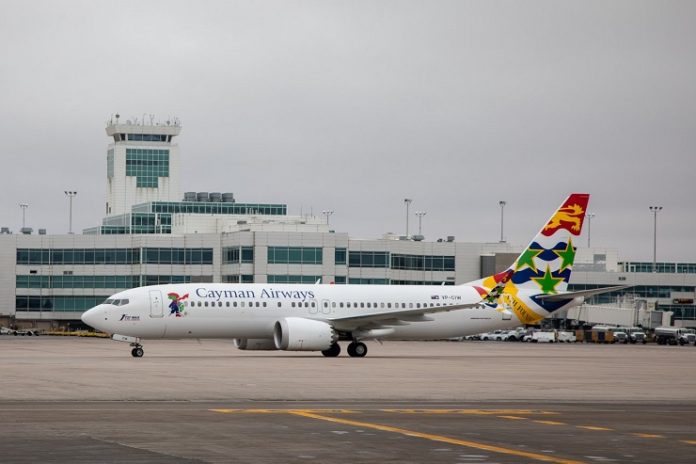 GEORGE TOWN, Cayman Islands, Monday March11, 2019 – Cayman Airways hassuspended the use of its two new Boeing 737 Max 8 aircraft, following yesterday'sfatal crash of that same type of plane operated by Ethiopian Airlines.
Thecrash of Ethiopian Airlines Flight 302, which crashed yesterday morning shortlyafter take-off from the airport in Addis Ababa, killing all 157 people on board,was the second fatal crash of the model in less than six months.
"Whilethe cause of this sad loss is undetermined at this time, we stand by ourcommitment to putting the safety of our passengers and crew first bymaintaining complete and undoubtedly safe operations and, as such, we havetaken the decision to suspend operations of both our new Boeing 737 Max 8aircraft, effective from Monday March 11, 2019, until more information isreceived," said Cayman Airways President and CEO Fabian Whorms in a statement issuedyesterday evening.
Headded that the airline is currently working in coordination with both theBoeing Corporation and the Civil Aviation Authority of the Cayman Islands tomonitor the investigation into Ethiopian Airlines Flight 302.
"Weoffer our valued customers our continued assurance that all prudent andnecessary actions required for the safe operation of our Max 8's will beaccomplished before the aircraft are returned to service," Whorms said,adding that some relatively minor, but necessary schedule and capacity changeswill be needed over the next few days to manage the flight schedule in instanceswhere the national airline may be short on available aircraft.
It was only on March 2 that Cayman Airways officially launched the Denver, Colorado route – the longest commercial nonstop flight in the airline's 50-year history – on the Boeing 737 Max 8 plane.
Click here to receive news via email from Caribbean360. (View sample)
Story first appeared at caribbean360.com
How the staff rate this post.